Our campus management solution covers all the needs that campus and clinics management requires. From the client enrolment, to online and ofline payments, monitoring the delivery of the campus, incidences, parent communications, and all the reporting and listings that you need to manage providers, assistants, trainers and acommodations.

Inscription

Delivery

Reporting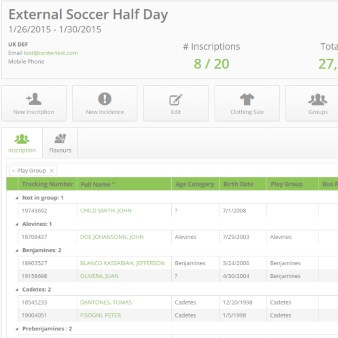 IntNovAction
Main features
Integrated Customer Management
An unified client database. Say goodbye to work on multiple Excel sheets. Having a unique client database, updated in real time, enables better teamwork and improved communication, lowering the number of errors.
Una solución integral
Manage the whole business cycle, from the initial customer contact to the delivery of the campus and the incidences that may arise during it.
Create custom reports and listings
Different moments and roles require different information. You will be able to create custom listings with the information you need.
Fine-grained permissions
Our solution provides diffrent access levers for your employees, from an administrator-level access to a limited access for the coaches. Not to mention the integrated audit system.
Customer support
Our team is always willing to help you int the difficulties you might encounter.
Global availability and updates
You will only need a web browser to access our platform. As a Software-as-a-Service solution you will benefit form automatic updates without having to install anything in your computer.
Cloud-based solution
Our platform is hosted in one of the most advanced datacenters in the world, managed by Microsoft itself. This provides us with the possibility to escalate our systems to meet your requirements, whatever they might be.
Continous evolution
Our solution is in continous evolution. Upgrades get deployed automatically with no user intervention.